Pastors Bill and Paula Carver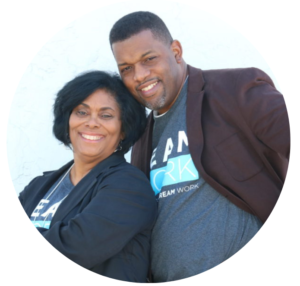 Pastor's Bill and Paula Carver are the founding and lead pastors of Church of the Harvest in Fayetteville, NC. Both Bill and Paula met and fell in love during college at East Carolina University in Greenville, NC. After graduating college at East Carolina University, they both knew they were called to ministry. In order to achieve the call that God placed on their hearts, they moved to Oklahoma to pursue a degree in Pastoral Ministry at Rhema Bible Training College.
Pastor's Bill and Paula Carver are on a mission to show people the heart of the Father, love them immensely, disciple them intensely, and teach them the unfailing power of faith. They are passionate about spreading God's love to all generations and serving the people of the Fayetteville Community.
Church of the Harvest is a presence-driven, Spirit-led, life-giving body of believers. Our desire is to see people saved by grace, empowered by the Holy Spirit, and blessed, so they can be a blessing to others.
"We're Like a Big Family Who Truly Loves Growing in Relationship with Christ"
At Church of the Harvest we're like a big family who truly loves growing in relationship with Christ and with each other! We dream of a place where all people can gather to engage in compelling worship; a place that inspires everyone to seek God's plan for their life!
This Church was designed for people just like you! We exist to reach people who desire to have a greater relationship with God. This means we are willing to do everything possible to see people reached and impacted by the gospel. We're a culturally diverse, non-denominational Christian community that strives to bring God glory. We are passionate about empowering peoples lives and look forward to meeting you.